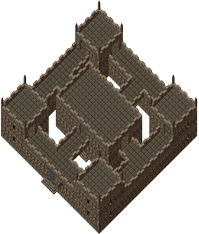 *CURRENTLY OUT OF STOCK* A castle is the largest, most grand house ever to be released. With a jaw-dropping plot size of 31x31, the Castle is the pinnacle of a guild home, or to finally begin living your lordly lifestyle! Shards available on: Chesapeake Europa Great Lakes Pacific After you place your house order, message our Delivery Team and let them know if you have any specifications (ie. Snow, Grass, Swamp) Plot Size: 31x31 Lockdowns: 4076 Vendor Count : 78

If this is your first time purchasing the "Castle - Shard Group 2, " or any other Search UO products, here are some helpful tips.
---
Orders can be placed for Castle - Shard Group 2, using almost any debit bank or credit card, aswell as paypal or google checkout.
Using the live chat feature can speed up your delivery by alerting the staff that you are ready to pick-up your UO "Castle - Shard Group 2, " or Ultima Online orders in-game.

Tags: Castle - Shard Group 2, , UO Castle - Shard Group 2, , Ultima Online Castle - Shard Group 2,


Others also bought these items when purchasing the product above.